Motorcycle Recovery in Epping CM16



Copyright © 2007 - Bikermedics Motorcycle Recovery Transport Service - All Rights Reserved
CONTACT INFORMATION
Bikermedics Motorcycle Recovery Transport Service







Epping is the home of Bikermedics. Established in
2006, we provide a premium motorcycle transport
and recovery service for the Epping area. Whether
you have had a break down on the High Road, or a
flat battery in Hemnall Street, we can be with you in
no time at all, transporting you and your bike where
you need to get to. We can also recommend the
nearest garage to take you to, should you need any
repairs.
Why use our motorcycle recovery services in
Epping?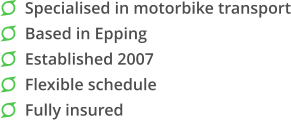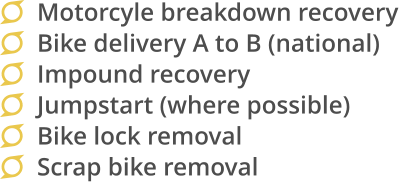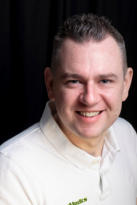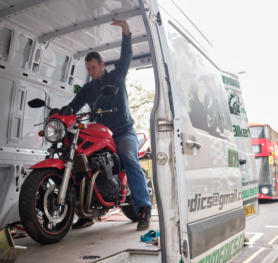 Loading motorbike into Recovery Van




Parking for motorcyclists in Epping
There are plenty of parking bays for vehicles along
the High Road in Epping though they obviously get
filled during the day.
There are 7 Car Parks near Epping Town Centre
including Bakers Lane Car Park and Civic Offices Car
Park.
Epping Station CM16 4HW - 20 motorcycle
bays - £2.00 per day
Cottis Lane Car park, Epping CM16 5DQ
Stonnards free parking Fairfield Rd, Epping
CM16 6ST
Motorcycle Touring Routes that include
Epping
Epping is close to the M25 Motorway (Waltham Abbey
J26) Adjoining Epping forest, it is ideal as part of a
fantastic scenic motorcycle tour.
For suggested Biker routes near Epping, try:
Epping Forest District Loop
https://www.bestbikingroads.com/motorcycle-
roads/united-kingdom/south-east-
england/ride/epping-forest-district-loop
Epping Forest and Surroundings
https://www.routeyou.com/en-
gb/route/view/6577379/motorcycle-route/cruising-
through-epping-forest-and-surroundings
Julies Cafe at Stonnards Hill - Stonards Hill, Epping
CM16 6SS
Original Tea Hut, Cross Roads, High Beach, Epping,
Essex, IG10 4HR (Every Wednesday evening in the
summer)
High Beach, Epping Forest Sunday Meetup
North Weald Air Field Wings Cafe Hangar 4 Annexe
North Weald Airfield,Essex CM16 6HR
Double Decker Diner, North Weald Airfield CM16 6HR
For motorcycle recovery services you
can depend on, Choose Bikermedics
07903 194450





Other Attrations in Epping