Copyright © 2007 - Bikermedics Motorcycle Recovery Transport Service - All Rights Reserved
CONTACT INFORMATION
Bikermedics Motorcycle Recovery Transport Service




Bike Recovery in Essex
Bikermedics covers the whole of Essex!
Situated in the west of Essex, Bikermedics can reach you
speedily.

Listed in the menu below are the nearest areas
we cover; with the

M11, A414, A12 and the A131

close by, we
can be with you in no time. Alternatively you may prefer to
schedule a a bike transport time to suit you - just fill in our
form with your requirements.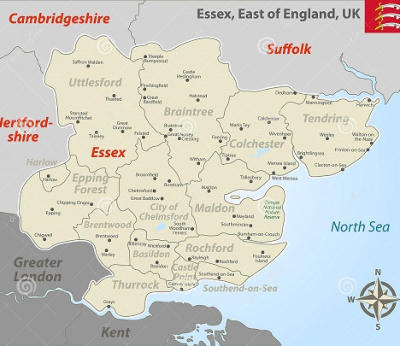 Can't see your area listed?
Don't worry, we cover the
whole of Essex, Herts and
Greater London - we are only
a phone call away!!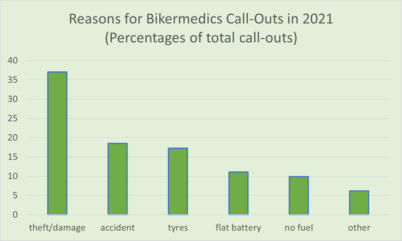 Emergency Motorcycle Call-Outs in Essex
Bikermedics motorcycle transport work is pretty much
evenly divided between emergency call-outs and
prebooked motorcycle transfers. For our call-outs,
the statistics below speak for themselves - the biggest
rise in call-outs in Essex has been due to rescuing
bikes which have been immobilised/damaged through
theft and vandalism. We really hope this doesn't
happen to your bike, but if it does, rest assured that
help is at hand with Bikermedics.
Map of Essex Areas Served by Bikermedics Motorycle Recovery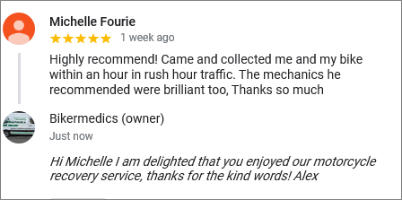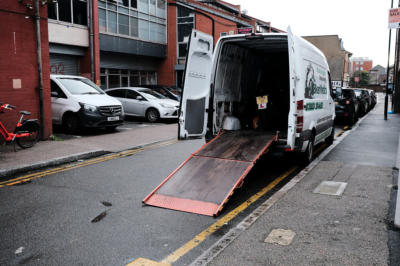 Bikermedics Recovery Vehicle
I
f your motorbike breaks down, we'll be on hand to
sort it out for you. Whether it's a puncture in
Chelmsford, a flat battery in Thurrock, or any type of
Motorcycle problem, Bikermedics can help.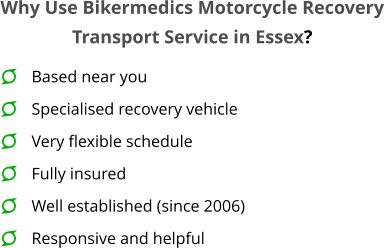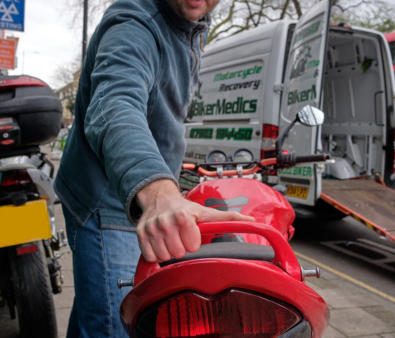 Moving a motorcycle into Bikermedics Van
We are just one phone call away, and with call-out
times in under an hour we can recover you and
your motorbike to your home or nearest garage.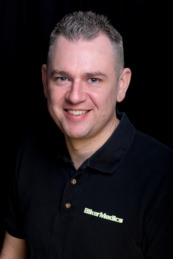 Bikermedics Services in Essex

Motorcycle accident recovery

Motorcycle breakdown recovery

Motorcycle delivery from A to B

Stolen bike recovery

Pound recovery Perivale

Pound recovery Charlton

Other pound recoveries

Jumpstart (where possible)

bike lock removal

Scrap bike removal